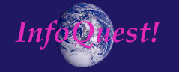 Internet Surveys and Statistics
These are just some of the surveys and statistical resources about the Internet and electronic commerce that are available. If you know of a resource that should be listed here and isn't, please let me know by contacting tbchad@tbchad.com. Last updated February 22, 2002.
Internet Surveys
Internet Statistics
WhoIs Services
Other Internet Reporting Services
Older Internet Surveys

Internet Surveys
These are links to current reports and organizations that publish demographic surveys and market research reports about the Internet and electronic commerce. Older surveys are listed at the end of this page.

NUA Internet Surveys
This site has a searchable database of Internet reports and surveys from around the world. It is searchable by subject, geography, and date, with subjects including advertising, demographics, email, automotive, infrastructure, online communities, and much more. The site provides brief abstracts of the reports and links to the orginating sites. NUA also offers a weekly email newsletter, Internet Surveys that describes the newest surveys that you can subscribe to on the site.
http://www.nua.ie/surveys/

GVU Rsearch. The Graphics, Visualization, and Usability Center at the Georgia Institute of Technology conducted ten seminal Internet Surveys between 1994 and 1998. Although those have been discontinued, the Center still conducts cutting edge Internet research.
http://www.cc.gatech.edu/gvu/

CommerceNet Internet Demographics and eCommerce Statistics
This page has links to a number of different types of Interent statistics including Internet population charts, global Internet usage statistics, demographic analyses, and other reports, including the CommerceNet/Nielsen Internet Demographic Survey that was conducted between 1995 and 1999.
http://www.commerce.net/research/stats/

Jupiter Media Metrix
Jupiter Media Metrix produces both Internet research and Internet measurement reports. This site offers monthly updates about the top performers on the internet according to unique visitors for U.S. Top 50 properties and top global properties, top online advertisers and top websites hosting ads, as well as industry projections for numbers of U.S. online users, U.S. online retail revenues, mobile appliances installed base, U.S. broadband households, and online music market. The Jupiter Research Center is limited to clients only, but you can register for guest access where you can see sample research. The sample research available in February 2002 included a December 2001 concept report on Content Management: Cost-Effective Content Management for the Enterprise and an August 2001 vision report on Online Advertising through 2006.
http://www.jmm.com/

Internet User Demographics
ICorp Survey*Net conducts internet surveys on a variety of subjects, including presidential polls, American comedy, shopping, shareware, demographic surveys, and more. You can both take the surveys and see the results. They also have a newsgroup, alt.survey.net, that discusses Survey.Net poll results and issues.
http://www.survey.net/

Killen & Associates
This firm produces reports for its clients about information technology, supply chain, and financial issues. In February 2002 Killen offered the whitepaper The Impact of 9/11 on the Financial Supply Chains of the Global 2000 free, a number of webcasts about different suppliers (also free), as well as industry news alerts.
http://www.killen.com

Simba Information
Simba provides a variety of internet and electronic marketing-related research reports for sale. They offer four regularly produced reports: the Electronic Information Report, Yellow Pages & Directory Report, Technology Advertising & Branding Report, and Educational Marketer.
http://www.simbanet.com/

Cahner's In-Stat Group
The Cahner's site offers abstracts & tables of contents of its technology-related reports, which can be purchased online. It also offers some whitepapers free. The free reports available in February 2002 included LAN Research Panel: State of the Office, What has Emerged from the Chaos? The Current State of the Technology Industry, and Tomorrow's Internet Broadband Capillaries Need Terabit Arteries.
http://www.BRGresearch.com/index.htm

Forrester Research
Forrester analyzes emerging technology change and its impact on business, consumers, and society and produces time sensitive leading edge reports on internet commerce, corporate technology, and consumer attitudes towards technology. February 2002 reports include Untangling Marketing Technology, Choosing an Outsources eCommerce Provider, and Online Behavior: Devices & Access North America. As a guest you can search or browse the reports for brief summaries. Full reports are available to clients, with a few available for sale to non-clients.
http://www.forrester.com/

International Data Corporation (IDC)
IDC provides reports on markets, trends, products, vendors, and geographies for the information technology industry. You can search this site for information found in IDC reports, newsletters, bulletins, and the IDC Flash and see abstracts, the tables of contents, price of the full report, and can order it online. Topics covered by IDC include Internet, wireless, data communications, networking, telecommunications, vertical markets, enterprise systems, electronic commerce, society and cyberspace, IT and banking, etc.
http://www.idcresearch.com/

Gartner Group Interactive
The Gartner Group is a leading information technology market research consulting firm. It has a wide variety of services, including journals and newsletters, which can be subscribed to and are available online. You can search the contents of the Gartner site by a number of criteria, and order many of the reports online. Reports available in February 2002 included What Web Services Will and Won't Do, Business Processing Outsourcing: A Market Overview, and Worldwide Trends in Telecommunications Liberalization, 2002: Focus on the Emerging Opportunities.
http://www.gartner.com

METAGroup
The META Group is a leading research and consulting firm focusing on information technology and business transformation strategies. Although it is a subscription-based service, you can sign up as a free subscriber and receive newsletters on a variety of topics, access to selected reports and audio files, and purchase other reports.
http://www.metagroup.com/

Giga Information Group
Giga is a leading information technology advisory firm that provides objective research, pragmatic advice and personalized consulting. Although almost all of the site is for subscribers, Giga does have an online store where you can purchase selected reports.
http://www.gigaweb.com/

Domain Health Survey
The Domain Health Survey provides information on the status of domain name services on the Internet in order to make Internet administrators more aware of the necessity of improving the services that they provide for Internet users and increasing awareness of certain security issues for companies with presence on the Internet. The survey results are available on the site.
http://www.menandmice.com/dnsplace/healthsurvey.html

PEW Internet & American Life Project
The Pew Internet Project (PIP) conducts research on the impact of the Internet on children, families, communities, the work place, schools, health care and civic/political life. Examples of their reports are CyberFaith: How Americans Pursue Religion Online, Asian-Americans and the Internet: The Young and the Connected, Wired Seniors: A fervent few, inspired by family ties, and Online Communities: Networks that nurture long-distance relationships and local ties.
http://www.pewinternet.org/index.asp

Digital Nation Reports: Reports & Statistics on the Digital Divide
The U.S. Department of Commerce puts out an annual report about the state of the digital divide in the United States. In February 2002, the NTIA and the Economics and Statistics Administration published A Nation Online: How Americans Are Expanding Their Use Of The Internet. The report is based on the September 2001 Current Population Survey, providing one of the most reliable datasets that have been gathered on Internet, broadband, and computer connectivity.
http://digitaldivide.gov/reports.htm

Internet Indicators
The University of Texas and Cisco Systems sponsored this website which puts out Internet Economy Indicators. This report includes a brief statistical history of the Internet and has demographic information. However, it's main focus is on the Internet's impact on the U.S. economy, reviewing what it calls the four layers of the Internet economcy: Internet infrastructure, Internet applications infrastructure, Internet intermediaries, and Internet Commerce. The website has reports published in October 1999, June 2000, and January 2001. There is no indication on the website whether there will be future repots.
http://www.internetindicators.com/

Internet and Society Study: A Preliminary Report by Norman H. Nie and Lutz Erbring.
This study was produced by the Stanford Institute for the Quantitative Study of Society (SIQSS). The original study was released in 2000, with the results available on the website. They say another study is in process. The study examines how Americans are using the Internet, looks that the "myths" of the digital divide, how work is invading the home, online purchasing behavior, and more.
http://www.stanford.edu/group/siqss/Press_Release/internetStudy.html

Morgan Stanley Dean Witter Technical Research
MSDW puts out periodic reports on technology and Internet trends and makes some of them available free to the public. A few of the reports published in the third quarter of 2001 include the Internet Ecosystem Framework-3Q01; Technology Primer, which is a massive overview of the technology sector segmented into thirteen industry groups: Data Networking & Internet Infrastructure; Semiconductors & Semiconductor Capital Equipment; Computer Services; Internet: Portals/Commerce & PC Software; Telecom Equipment; Communications Software; Enterprise Software; Enterprise Software Infrastructure; Enterprise Software: Distributed & High Availability Technologies; Systems & Enterprise Hardware; Imaging Technologies; PC Hardware/Data Storage & Internet Devices; and Electronics Manufacturing Services; and CIO Survey Series, Release 2.8, which looks at IT budgets, revenues, and issues.
http://www.morganstanley.com/institutional/techresearch/

KPMG Consulting Library
KPMG Consulting makes some of its research reports available to the public through its library. The library offers industry news, publications, surveys, case studies by industry & solutions; research, including Creating the Ideal Shopping Experiences: What Consumers Want in the Physical and Digital Store; and whitepapers, such as Lessons in Supply Chain Management from 2001: The Imperfect Crime.
http://www.kpmgconsulting.com/library/index.html

Deloitte Consulting
Deloitte Consulting makes some of its research and articles available to the public after a free registration. Examples of available reports published in January 2002 includes This is Not Your Father's Downturn: Positioning For Recovery, Strategy and e-Health: How to Harness the Power of the Internet for Competitive Advantage in Health Care, and Competing For Collaborative Customer Solutions: Differentiation in High-Tech Digital Loyalty Networks.
http://www.dc.com

Internet Surveys
Internet Statistics
WhoIs Services
Other Internet Reporting Services
Older Internet Surveys

Internet Statistics
These sites track the statistics about Internet growth, connectivity, number of domains, and so on.
CyberAtlas--The Web Marketer's Guide to Online Facts
CyberAtlas provides a concise, data-based overview of the Web and the science of Internet marketing. Topics include marketing and demographics, Intranets, ISPs, Online Services, Browsers, Advertising, etc. It's Statistics Toolbox allows visitors to easily find statistics by category in a matrix format that clearly lists date and source. CyberAtlas offers a free e-newsletter to keep you up-to-date on the lastest Internet statistics and surveys reports.
http://cyberatlas.internet.com/
eMarketer Internet & eBusiness Statistics
eMarketer provides a wide range of Internet industry reports for sale. Summaries of the reports, containing tantalizing tidbits of statistics, are available on the website. You can subscribe to eMarketer Daily to keep apprised of the latest internet and e-commerce news and statistics. eMarketer reports published between December 2001 and February 2002 included North America Online, PC Market Report, and Essential E-Business Numbers for Marketers.
http://www.emarketer.com/
Internet Index
Edited by Win Treese. The Internet Index is an occasional collection of facts and statistics about the Inernet and related activities.
http://www.openmarket.com/intindex/index.cfm
Internet Service Providers Catalog
This site provides lists of ISPs. You can search for U.S. ISPs by state or area code, and non-US ISPs by phone code. The site also has lists of dedicated hosts, business hosts, co-location services, and personal hosts.
http://thelist.internet.com/
Matrix Information and Directory Services, Inc. (MIDS)
Among many other things, this site offers a variety of maps and graphs that show the sizes and locations of Internet hosts, servers and users, correlated by such factors as geography, population demographics and economics, dating back to 1993. Some of the other Internet demographics and economics reports are also available free. Small images of every map and a few full-size sample images are available for free. Some of the other demographic and
http://www.mids.org/
Internet Domain Survey
This survey, produced by the Internet Software Consortium and Network Wizards, attempts to discover every host on the Internet by doing a complete search of the Domain Name System. The results are presented in both text and graphical formats. The site also links to related surveys at other websites. Contains historical information from 1981 in text format and 1991 in graphic format.
http://www.isc.org/ds/
The Netcraft Web Server Survey.
This is a monthly survey of Web Server software usage on Internet connected computers. Netcraft collects and collates hostnames providing http service and systematically polls each one with an HTTP request for the server name.
http://www.netcraft.co.uk/survey/
RIPE Network Coordination Centre: Internet Statistics
Contains statistics on European connectivity, host counts, service providers, and more.
http://www.ripe.net/statistics/index.html
Internet Statistics: Daily Report from NetSizer
This site by Telcordia Technologies shows daily statistics about the growth of the Internet, number of hosts by domain, number of hosts by major ISPs, number of hosts belonging to second level domains, and the growth of the Internet during the past year.
http://www.netsizer.com/
Browser Watch -- Stats Station
This site tracks the use of the various browsers, counted by visits to the browserwathc site.
http://browserwatch.internet.com/stats.html
Web Compare
This site has the web server comparison chart which compare features of web servers. There are also links to other sites which have web server benchmark studies.
http://webcompare.internet.com/
Connectivity Providers Database
The Network Startup Resource Center (NSRC) produces this database about international networking developments and Internet connectivity providers, with its major emphasis on countries in Asia, Africa, Latin America and the Caribbean, the Middle East, and Oceania.
http://www.nsrc.org/networkstatus.html
Making Sense of Internet Statistics
In Editor's Notes, by Jack Rickard, Boardwatch Magazine, December 1995. This is an excellent article about about the inflation of Internet demographic statistics. The data is old, the lessons aren't.
http://www.ispworld.com/archive/mag/95/dec/bwm1.html
Yahoo: Computers and Internet: Internet: Statistics and Demographics, Surveys
This is Yahoo's collection of links to Internet surveys and statistics.
http://www.yahoo.com/Computers_and_Internet/Internet/Statistics_and_Demographics/

Internet Surveys
Internet Statistics
WhoIs Services
Other Internet Reporting Services
Older Internet Surveys

Who Is -- Domain Checking Services
These are just a few of the Who Is services available.
Network Solutions
This is the father of U.S. domain registration service, that contains a whois domain search facility, along with a large number of other services.
http://www.netsol.com/
DomainStats.com
This site is part of NetNames Domain Name Information Services, an international domain name registry service that also has a domain search facility. DomainStats has statistics of the number of domains not operated by Internic, Internic domains, and domain history.
http://www.domainstats.com/
Domain Surfer
Contains more than 31 million records, is fast, and has wild-card and drill-down search mechanisms.
http://www.domainsurfer.com/
Register.com
Domain registration service, with a whois server.
http://www.register.com/
Better-WhoIs.com
This site lists and searches all of the active domain registrars for available names.
http://www.betterwhois.com/
WhoIs.net: Domain-based Research Services
This site provides some domain statistics, and not only lets you do a traditional whois search, but also lets you search through the more than 3.8 million deleted domain names, and has a free trademark name conflict search.
http://www.whois.net/
Smart Whois
You can search this by domain extension and a variety of country codes.
http://www.swhois.com/
Allwhois.com
This is a global domain name search and registration site. It is multilingual and you can search by country.
http://www.allwhois.com/

Internet Surveys
Internet Statistics
WhoIs Services
Other Internet Reporting Services
Older Internet Surveys

Other Internet-Related Survey, Demographic, and Statistics Services
These are links to organizations that provide website traffic and audit services, information on how search engines and other web tools work, and other Internet-related services.

Search Engine Watch by Danny Sullivan.
This site contains information about how search engines work, comparisons of search engines, recent news about changes in search engine, website design with search engines in mind, webmasters gudie to search engines, and much more.
http://searchenginewatch.com/

SRI International VALS survey
The SRI Values And Lifestyles program categorizes US adult consumers into mutually exclusive groups based on their psychology and several key demographics. They have a number of online surveys that people can fill out to be added to the sample population. There is an Internet VALS (iVALS) survey that you can take to see what type of Internet user you are: wizard, pioneer, upstreamer, socialite, worker, surfer, mainstreamer, sociable, seeker, or immigrant.
http://future.sri.com/VALS/presurvey.shtml

TopicalNet and I/Pro: Web Analytic Solutions
This company offers web analytics and independent third-party Internet audits of web traffic.
http://www.topicalnet.com/

Internet Surveys
Internet Statistics
WhoIs Services
Other Internet Reporting Services
Older Internet Surveys

Older Internet Surveys and Reports
These sites contain reports that are several years old and have not been updated. They still may be useful from a historical perspective.
GVU User Surveys. This site contains the survey background, and results, of the ten WWW User Surveys conducted by the Graphics, Visualization, and Usability Center at the Georgia Institute of Technology between 1994 and 1998. The surveys cover a number of areas. The general section includes general demographics, web and internet usage, attitudes towards electronic privacy and spamming, and politics. The Consumer Survey covers security of transactions, information gathering behavior, purchasing behavior, opinions of vendors, and Internet banking. There are also special sections on webmastering, HTML authoring, and Web/Internet Service Providers.
http://www.cc.gatech.edu/gvu/user_surveys/User_Survey_Home.html
Internet Statistics: Web Growth, Internet Growth
This site, produced by Mathhew Gray, contains charts of the growth of the Internet and the WWW through 1997.
http://www.mit.edu/people/mkgray/net/
Internet Operating System Counter
This site counts operating systems usage by top level domains primarily in Europe. It has overall counts by for the current past month and by top level domains in Europe through April 1999.
http://leb.net/hzo/ioscount/
Internet Monthly Report
These are reports by the members of the Internet Research Group. They contain interesting tidbits of information by major connectivity providers through 1998.
http://www.isi.edu/in-notes/imr/
Merit NSF statistics
The last report NSF report is for April 1995, when NSF closed. But this site contains recent statistics on Internet growth from other sources such as Network Wizard.
ftp://nic.merit.edu/statistics/nsfnet
Larry Landweber's International Connectivity Table
This site contains historical, 1997 and back, charts of types of Internet/UUCP/BBS, etc. service by country.
ftp://ftp.cs.wisc.edu/connectivity_table
Internet Society Internet connectivity charts and graphs.
The historical statistcal data collected by the Internet Society can be found in their ftp site.
ftp://ftp.isoc.org/isoc/charts2/ftpisoc.html
Netsurfer Digest Reader Survey
This page has the results of the Netsurfer Digest Reader Survey for the periods June 1994 - May 1995 and November 1995 - June 1996. They show readership growing more diverse and less use of online services and BBSs.
http://www.netsurf.com/surveys.html
Rand Report on Universal Access to E-Mail: Feasibility and Societal Implications.
1995. Summary available online. Document # MR-650-MF. Full report is $20.
http://www.rand.org:80/publications/MR/MR650/
Falling Through the Net: A Survey of the "Have Nots" in Rural and Urban America
US Dept. Commerce, July 1995. About universal service and the Information Age. Summary and list of charts.
http://www.ntia.doc.gov/ntiahome/fallingthru.html
Creating Learning Communities: Practical, Universal Networking for Learning in Schools and Homes
By the EPIE Institute. 1996. ASCII version of the Report contains 100's of school networking tips gleaned from 670 references, contains over 100 URL's relevant to school networking, and provides ways to strength home/school connectivity.
http://www.eff.org/pub/Groups/CITS/Reports/epie_cits_school_networking.report
The World Wide Web as a Universal Interface to Government Services
1996. This report describes the results of a project to demonstrate the potential of the Web to become a universal interface between citizens and government.
http://www.ctg.albany.edu/resources/htmlrpt/ittfnlrp.html

Internet Surveys
Internet Statistics
WhoIs Services
Other Internet Reporting Services
Older Internet Surveys

TOP
InfoQuest! Information Services Home
Copyright 1996-2002 InfoQuest! Information Services
Last updated: February 22, 2002
Please send any comments to tbchad@tbchad.com
URL: http://www.tbchad.com/stats1.html