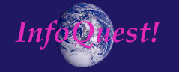 Cybrargonians on the Net

By Terry Brainerd Chadwick, InfoQuest! Information Services

This is the hyperlinked version of the column about the Internet that appears in the Oregon Special Library Association's newsletter The Oregonized Librarian.

This issue contains a potpourri of interesting sites, including maps, calendars, cartoons, music, and more.

---

Dialog's new pricing policies, their effect on users, and alternatives to Dialog are the focus of this issue, which has been updated to reflect Dialog's recent pricing revisions.

---

This issue provides websites for web design and development. It describes web development metasites and design guides, designing for accessibility, and specialty sites that focus on colors, frames, tables, java and other web features.

---

This issue focuses on websites containing information on salary surveys, comparative salaries between geographic regions, and other wage and compensation information.

---

There are hundreds of good international trade resources available on the Internet. This issue focuses on a few good international trade metasites, some US Government and Oregon trade sites, and a few more specialized sources of international trade information. Keeping with the theme, the Fun Stuff this time is devoted to non-US entertainment sites.

---

This issue is devoted to a few of the recent resources that will help you "stretch" yourself to learn the new skill sets and competencies that librarians will need to survive in the 21st century. The "Fun Stuff" for this issues continues the theme by providing resources on the best ways to stretch your physical selves.

---

This column was originally scheduled for the November issue of the Oregonized Librarian newsletter, but wasn't published until the Spring issue. Therefore, this is an update of the column published on the Net in November 1996, with updated links and a new Fun Sites section. This issue discusses knowledge management resources on the Internet. If you're a game show fan, you'll enjoy our Fun Sites section.

---

This issue discusses knowledge management resources on the Internet. Once you've increased your knowledge base, have some fun by exploring some of the holiday-related sites on the Net.

---

This issue looks at some of the resources about Intranets that are available through the Internet. Also highlighted are a couple of "map" web sites that will give you directions to wherever you want to travel, or let you print out directions for people to reach you.

---

This issue explores some of the Internet sites that contain elections and voting information, as well as sites focusing on the political and legislative policy aspects of the Internet. Fun Stuff for this issue is political humor.

---

This issue looks at training and development resources on the Internet, fun stuff on the Net that kids and parents can explore together, and a new site designed to foster relationships between copyright owners and developers of electronic works.

---

Issue #3 explores the intellectual property issues, search engines and subject guides, and contests on the Web. The section on search engines is a much expanded version of the print column.

---

Issue #2 explores the jobs and human resources management resources available on the Internet, as well cartoon-related Web sites.

---

The inaugural issue features renewable energy resources available on the Internet, the Thomas Register, and the Buena Vista movie Web site.
[TOP]
Return to InfoQuest! Information Services Home Page
Last updated October 13, 1998, InfoQuest! Information Services
Please send any comments to tbchad@tbchad.com.

URL= http://www.tbchad.com/cybrar/cybrar.html